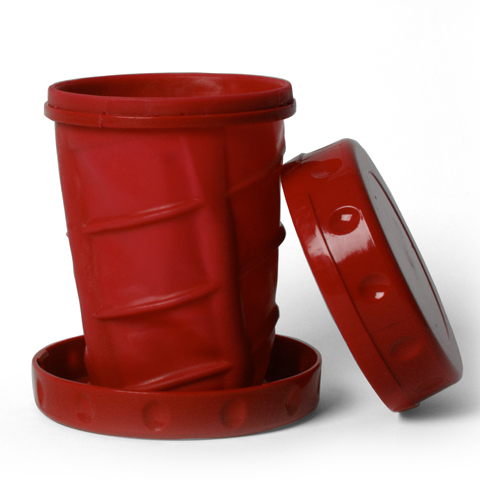 When I was a Girl Scout and it was time for our first camping trip I was so excited to go shopping for my first bit of gear. My favorite item was my pink collapsible cup. I loved how it opened and closed and stored in such a tiny fashion. However, it wasn't very durable. The rings could separate too far and it was then no longer water-tight. So I gave up on collapsible cups. As an adult I have been hesitant to try collapsible bowls and cups because they always seem cumbersome, hard to clean, and not terribly durable, that is until my friend Michele introduced me to
Flatterware
.
I love my bright red Flatterware cup for so many reasons:
The Size: It actually holds a 12oz portion of a beverage or snacks.
It is Durable: You can bend it, squish it, fold it and it always bounces back to it's original shape.
Easy to Clean: The Flatterware items are a smooth. No rings with crevices that get nasty and filthy. They're easy to rinse out and clean, even at the base points. Also Dishwasher safe.
Works for Hot and Cold Beverages! I can use it for water or tea.
Phlalate-free!
Who would enjoy Flatterware:
Naturally campers, hikers, climbers...anyone who enjoys their meals outdoors.
Event Goers. The large beverages served at sporting events and other gatherings may be too much for one person and a Flatterware cup makes it easy to share a drink without sharing germs.
Travelers will enjoy the cup when visiting locations where cups may not be provided (yes, some accommodations don't have cups in their rooms and bathrooms).
Parents will enjoy these for picnics or serving up snacks and beverages during outings.
Dogs will enjoy drinking out of the bowls while out and about.
Environmentally-concious folks who want to reduce the amount of waste in the world.
The design is clever and they're a great item to keep in your bag. Visit the
Flatterware
website to discover where you can buy their bowls and cups for yourself or for a holiday gift!