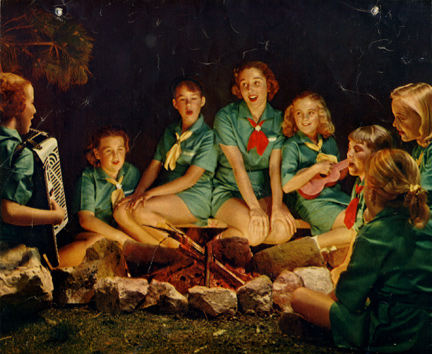 I have been thinking a lot about my rock climbing retreat last year. It was an amazing weekend in Vedauwoo, Wyoming with
The Women's Wilderness Institute
. It was a lot like being at camp when I was a kid. Granted it was a small group and we slept in tents not cabins and cooked together rather than eating in the mess hall but the camaraderie and energy were there. So why should kids have all the fun? Have you ever wanted to just check out for a week and go learn something new or improve a skill? Maybe one of these adult camps are for you.
If you're interested in more traditional wilderness skills try
Outward Bound
. While known for it's youth course Outward Bound offers a wide range of courses for adults including kayaking, climbing, backpacking, and sailing. Also try finding an organization like The Women's Wilderness Institute in your state (or wherever you may roam).
If you're a musician and want a chance to learn from an idol consider
Rock 'n' Roll Fantasy Camp
. Held in various locations across the USA and in England these five day camps allow you to attend classes, jam sessions, write and record music and perform with rock stars. Now these camps are not for someone with moderate interest. Running about $8K per camp this is a serious investment but if it's your passion it could be worth it.
Now if you're lucky enough to be a lady and want to learn or improve your singing or instrument skills consider
Ladies Rock Camp
in Portland, Oregon. I was able to attend one of these camps in 2007 and it was quite memorable. I spent a weekend in Portland at the Girls Rock Camp learning guitar, forming a band, writing our own song, and then performing at the Music Showcase (I have a DVD to prove it). At the reasonable price of $375 not only do you learn skills and form new friendships but you're tuition helps raise money for the Girl's Rock Camps and after school programs.
If you are a member of the Gay Lesbian Bisexual Transgender community how about
Camp Camp
? Held in August each year, this experience may be the closest match to a traditional summer sleep away camp. With activities including swimming, arts and crafts, climbing, hiking, and mountain biking there is something for everyone. The week long camp also includes a Barn Dance, campfires, and the Talent/No Talent Show. Camp registration is $995 but campers also have the option to apply for staff positions to reduce tuition costs.
If you're always gazing at the stars then
Space Camp
may be for you. Located in Huntsville, Alabama, Space Camp offers 3-day ($449),6-day ($899), and 8-day ($1,299) sessions for adults. Campers participate in various simulations like walking on the moon as well as experience missions as part of the shuttle crew and mission control. Space Camp also offers Corporate Team building packages, though I think I would rather go alone. ;)
Maybe you spend more time digging in the dirt than staring at the sky. Are you a history buff and always hoping to wander across an archaeological find? The
Crow Canyon Archaeological Center
offers opportunities for novices as well as those with more experience. During the week long program you will spend time in the field which includes hiking to the site as well as working along side professionals in excavating efforts. Several evenings include educational presentations. The novice rate is $1,400 and includes meals, accommodations, permits and local transportation.
I never thought summer camp would be a part of my adult life but it's had a great impact. As usual my list of suggested camps is not all inclusive. If you have another passion be it baking, surfing, or ghost hunting then google it and camp may very well be in your future.